Liquid & hazardous waste management
Benzoil's focus is hazardous and liquid waste management, and particularly used mineral oil.  Every industry and manufacturing process produces waste and by-product streams – if you've got it, we've likely heard of it and can handle it.  Benzoil handles packaged and bulk wastes.

How do we define it?
Hazardous waste is defined as liquid, solid, contained gas, or sludge that contain properties that are dangerous or potentially harmful to human health or the environment.
Benzoil actively seeks waste streams, and are geared to work with the following and more: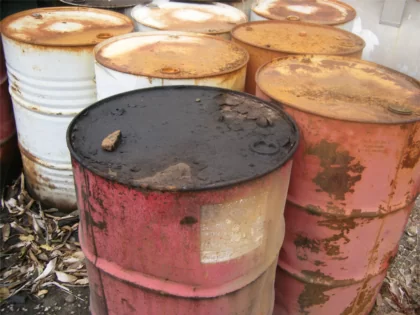 What waste does Benzoil handle?
Depending on the jurisdiction, the waste Benzoil handles may be variously described as hazardous, controlled, prescribed, placarded, regulated, listed or universal. Where recycling is not possible, Benzoil utilises compliant and industry best practice liquid waste disposal partners.
So, what do we handle?  In broad terms – hydrocarbons and chemicals; solid, liquid or gas; bulk or packaged – but more specifically:
Used transformer oils
Used lubricating oils
Used industrial oils
PCB contaminated oil and equipment
Oily water
W/O and O/W emulsions
Fats, oils and greases
Glycols
Off spec fuels and products
Acids and alkalines
Toxic metals
Expired catalysts
Reactive materials
Spent solvents
Pesticides and herbicides
Process wash waters
Contaminated industrial waste waters
Sludges
Contaminated soils and timber
Contaminated scrap metal
Discarded chemicals
Gas cylinders and lecture bottles
Batteries and bulbs
X-ray materials
Low-level radioactive materials
We only use safe and compliant practices for hazardous and liquid waste disposal.
Can we handle hazardous used materials?  Yes!  Regardless of what it is called, Benzoil's goal is to always extract the most value from materials we handle by ensuring recyclable materials are processed to be used again or turned into other valuable resources.
Benzoil's network of off-takers and processing facilities provides you with access to end markets and outcomes available nowhere else.  Our buying power allows us to negotiate best prices and place waste and by-product streams with best-in-class partner facilities.